Posted on
March 3rd, 2008
by Teddy Ballgame
What Dr. Jekyll and Mr. Hyde did was nothing compared to the first two big league seasons in the career of Fausto Carmona. Last year Carmona followed up a 1-10, 5.42 ERA, with a sophomore jinx of 19-8 with a 3.06 ERA. Today I went to Dunedin to see which Fausto would take the mound for the Tribe. Luckily for the hometown Jays, it was Rookie Carmona, as Fausto allowed five hits, one walk, and two runs in 1 1/3 innings pitched. I know this was just his first time out, but Cleveland has to be a little concerned because of his all or nothing seasons the past two, especially if these bad performances were to continue.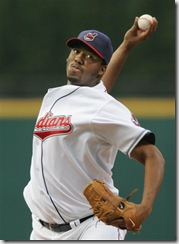 There was another second year Tribester taking a different path from Carmona, while Fausto hitched his career to a shooting star, Josh Barfield sputtered, and eventually lost his starting secondbase job in Cleveland. The Indians obtained the son of former big league outfielder Jesse Barfield from the San Diego Padres in exchange for Kevin Kouzmanoff. Barfield enjoyed a very good rookie season in southern California batting .280, with 13 homers, 32 doubles, and 21 stolen bases, in 150 games for the Pads. Last year Josh struggled with Cleveland with a .270 OBP, hitting just .243, with only three long balls, 19 doubles, and 14 steals in 130 games, before being replaced in the starting lineup by Asdrubal Cabrera. There were several good rookie secondbasemen to step up to the bigs when Barfield came up. As luck would have it, my Illowa APBA League team needed a secondbaseman. When Howie Kendrick was chosen early in the rookie draft, I decided to grab Josh, so I wouldn't get stuck with either Dan Uggla or a guy who wasn't even picked by anyone, Ian Kinsler. Could I please have a mulligan? To rub it in, Barfield went 0-4 today, with a couple of strikeouts, and now it looks like I may drop my highly touted secondbaseman after picking him just one short year ago. I know he has talent, but he looks hopeless out there right now.
I also got to see an old friend from the Arizona Fall League, Trevor Crowe. At 21 years of age while at the University of Arizona, he batted .403 with 15 triples, 25 doubles, to go along with 27 steals, and a .477 OBP, which is what prompted the Indians to select the switch-hitting Crowe with the 14th pick in the 2005 amateur draft. Trevor impressed me when I saw him a couple of years ago at the AFL, then he followed that up hitting just .259 in Double-A, today he lined a single off the pitcher's glove in four at bats, but was promptly picked off first base.
A couple of Blue Jay players I hadn't seen until today were Marco Scutaro & Adam Lind. Scutaro will be a utility infielder for Toronto, after filling that role for the A's in recent years. It was surprising to see the Jays bring in Scutaro, with slick fielding John McDonald around, and little David Eckstein brought in to play SS. Today Marco was on his game, with a single and a double. Adam Lind tripled today, scoring Travis Snider from 1st, it was good to see the powerfully built Snider circle the bases. Today Travis got the call as starting DH, working two walks, lining a base hit, having a liner to left plucked off tall blades of grass by the Indians leftfielder, and then he struckout in his other AB, not a bad afternoon.
Shaun Marcum started for the Jays and looked really good, striking out two, allowing one hit, in two innings. There were also two Toronto relievers who didn't allow a thing. Jeremy Accardo, ISU Redbird Alum, struckout one in one inning, while Brian Wolfe worked a perfect 1 2/3 innings, striking out one.
There was one other player I was looking forward to seeing, but Beau Mills kind of disappointed, grounding harmlessly to second in his only time up. Mills is a highly touted prospect and the son of former reliever Alan Mills.
No tags for this post.