Posted on
August 13th, 2007
by The Baseball Zealot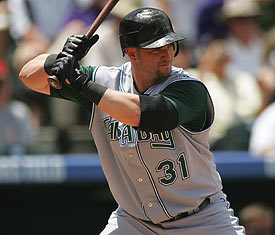 (Photo: Doug Pensinger/Getty Images)
…in the lineup that is.
Tampa Bay manager Joe Maddon is giving Jonny "Heart Attack" Gomes a chance at the leadoff spot.
While Gomes won't fit anyone's preconceived notion of a prototypical leadoff man, Maddon's decision was not made without logic or precedent.

The manager was drawn to Gomes' .388 on-base percentage against left-handers (second on the team only to Brendan Harris' .411 mark) on a night the Rangers were starting lefty Kason Gabbard.
That's nothing new to me.  I have Gomes on my APBA team.  When I'm forced to start him, I lead him off.  With Gomes' average of .216 from last year, I figger his chances of getting on base will be better with a walk than a hit.
Good move, Maddon.
No tags for this post.