Posted on
November 26th, 2006
by Teddy Ballgame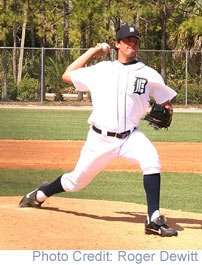 Jordan Tata
Another beautiful day in Arizona. I was stressing about where I'd end up watching today's game from, as I arrived only moments before game time, but luckily this was the AFL and there was a place for me right behind home plate. I pulled up a chair and sat down among the scouts. There were plenty of radar guns, so I was able to see how hard these kids were throwing. A couple of the scouts I got to know where Phil Rizzo of the LAD and Marteese Robinson of the St. Louis Cardinals.
Scottsdale Scorpians stars of the day were 3B Ryan Braun (MIL) a double, single, and a nice play in the field, 2B Danny Richar (ARZ) two singles & an RBI, and CF Jerry Owens (CHW) two singles. SS Kevin Frandsen (SF) got a hustle double, very fast, but no shortstop arm. C Bobby Wilson (LAA) got a single & a walk, but was robbed of a 2nd hit when 3B Kody Kirkland threw him out on a great play because he's such a slow runner. P Dennis Sarfate (MIL) is a 6'4″ righty who threw 93 MPH & struckout one, walked one, and allowed one hit, in one inning. P Patrick Misch (SF) is a lefty out of Northbrook, IL who clocked in at 86 MPH and struckout one in his perfect inning of work. P Chris Kinsey (ARZ) threw 90 MPH, two perfect innings, struckout one, and stands 6'3″.
But the Phoenix Desert Dogs won this game 5-2 behind these performances. P Jordan Tata (DET) allowed eight hits & one base on balls, no strikeouts, five innings, 90 MPH, 6'6″ 220. Oakland righties Mike Mitchell (93 MPH, one walk, one K) & Connor Robertson (88 MPH, one K) each worked an inning, while Marcus McBeth came up lame after throwing just four pitches. 1B Chip Cannon (TOR) pulled three hits to right, including a double, & three RBIs, RF Brent Clevlen (DET) drove in one, had two singles, 2B Drew Anderson (CIN) had a triple and a base hit, SS Ben Zobrist (TB) stole a base, had two base knocks.
Heard the news while the game was going on that Brandon Webb was named 2006 NL Cy Young Award winner. Also heard that Mark DeRosa was signed by the Chicago Cubs to play secondbase, assuring Ryan Theriot of staying in Triple A.
When I left the ballpark I ran into White Sox Assistant GM Roland Hemond in the parking lot. I congratulated Hemond on all his hard work paying off with a 2005 White Sox World Championship. Hemond was talking with a Chicago Cubs executive who commented on the DeRosa signing, saying, "Theriot never looked better at any level than he did with the Cubs, but Ryan decided to pass on playing winter ball, saying he was moving". It's a shame to see a kid like Theriot throw his major league career away so foolishly.
My mouth was watering as we were driving out of the parking lot. I'm from Chicago and I know food, have had plenty of great pizza, but the Oprah Show claimed Pizzeria Bianco at Washington & 7th Street in downtown Phoenix has the best pizza in the world, they received over 400 e-mails from viewers claiming this truth. Waited from 5:30 PM till 8:45 PM, before my tastebuds were FINALLY rewarded with what truly was the best pizza I'd ever eaten. Chris makes every pizza, I had to tell him how much I'd enjoyed it, he commented on my Buck O'Neil shirt, saying it was sad he didn't make the HOF before he'd died. We had four pizzas between myself & my friend's son (one cheese & basil, one arugula, one pistachio, & one sausage).