Posted on
November 27th, 2006
by Teddy Ballgame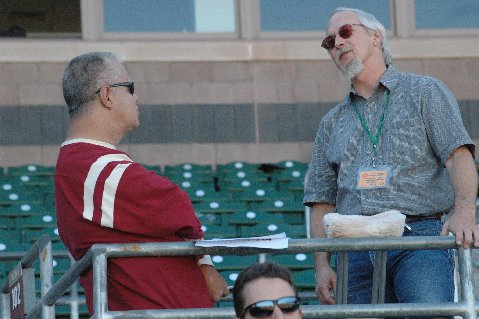 Teddy Ballgame chats with Michael Point of Baseball America
Photo courtesy of Jim Pierce of Baseball America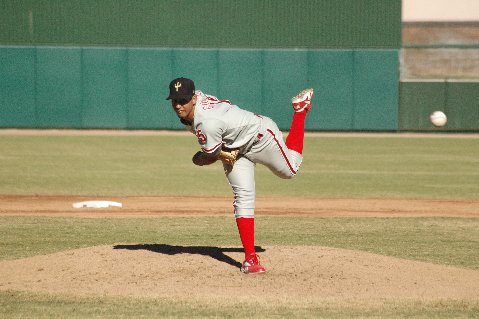 Giovany Gonzalez
This was get away day for the AFL, as a result this was only a seven inning game, with no chance for extra innings. Both teams were going home after the game as the Championship game was already set between the Grand Canyon Rafters and the Phoenix Desert Dogs Saturday November 18th at Scottsdale.
The Peoria Saguaros shutout Mesa 5-0 behind 3 2/3 scoreless innings put up by starting 5'11" lefty P Giovany Gonzalez (PHI), P Kyle Kendrick (PHI) got the win allowing one hit and fanning one over 1 1/3 innings of work, P Dan Foli (WAS), and 6'7″ T.J. Beam (NYY) each pitched a scoreless inning, C P.J. Pilittere (NYY) belted a three run bomb over the leftfield fence, 3B Chase Headley (SD) knocked a solo shot over the leftfield wall, and Cuba's own OF Amaury Marti (StL) hit one over the centerfield fence with nobody aboard, he also singled to left, 2B Juan Ciriaco (SD) had a couple of hits, and big man 6'5″ 230 pound DH Colt Morton nailed a couple of fly balls to deep centerfield for long outs.
Bright spots for the Mesa Solar Sox were DH Brooks Conrad (HOU) who got a double in four at bats, he never uses batting gloves, 2B Eric Patterson (CHC) singled to center, walked, & stole a base, and lefty reliever Carmen Pignatiello (CHC) lowered his ERA to 0.87 with a perfect inning pitched. But Carmen's chances of making the Cubs were diminished when it was learned during the game the Cubs traded for lefty Neal Cotts from the White Sox.
The game ended at 3:00 PM, but my ride didn't get there till after six, which gave me PLENTY of time to look over the 2006 AFL Media Guide & Program, which I got free as a result of being with the Press (thebaseballzealot.com). Sitting on a bench in the parking lot I struck up a conversation with a catcher going to school in Peoria, he said it was a blast being a bullpen catcher for Mesa, catcher for Peoria is his daytime gig. My trip ended pretty much as it began as the last person I saw at the ballpark was the same guy that I saw when I first got into Hohokam Stadium in Mesa, Matt Marks. Marks was the Mesa Solar Sox Operations Manager, continued success to Matt.
The traffic was horrible and I didn't end up getting to the Blackhawk/Coyote game until the 2nd period, the Hawks were up 2-1, but ended up losing in a shootout. Still my Fall trip to Arizona was fantastic!!! And I'd like to tell you about my weekend trip to Las Vegas, but you know the saying, "What happens in Vegas, stays in Vegas".