Posted on
November 4th, 2006
by Teddy Ballgame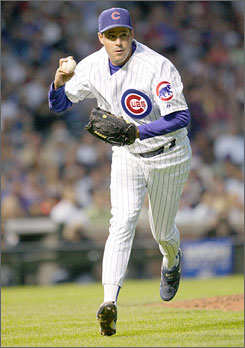 Greg Maddux
The N.L. Gold Gloves were announced with Greg Maddux leading the way with his 16th. Omar Vizquel won his 11th at SS, two away from the Wizard. First time winners were Albert Pujols at 1B & Carlos Beltran in the OF. Unlike the AL Award winners, I have no problem with the NL winners. Here are all of the winners listed below. What do you think?
P Greg Maddux Cubs
C Brad Ausmus Astros
1B Albert Pujols Cardinals
2B Orlando Hudson Diamondbacks
3B Scott Rolen Cardinals
SS Omar Vizquel Giants
OF Andruw Jones Braves
OF Mike Cameron Mets
OF Carlos Beltran Mets
No tags for this post.