Posted on
December 5th, 2007
by The Baseball Zealot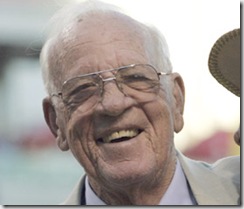 Like an episode of "Survivor". all the others were kicked off the island and three remain. The fans voted for Bill King, Joe Morgan and Joe Nuxhall to join seven others to be on the final ballot of the Ford C. Frick Award for excellence in broadcasting.
Those three will be accompanying Tom Cheek, Ken Coleman, Dizzy Dean, Tony Kubek, Graham McNamee, Dave Niehaus and Dave Van Horne who were selected by a research committee from the Baseball Hall of Fame Museum.
They are all legitimate winners but the voting wasn't close. The sympathy vote for Joe Nuxhall who passed away in November gave him 82, 304 votes to King's 7,659 and Morgan's 6,065.
Ironically, he had my vote before he passed.
Those who want a bio snippet of each of the ten broadcasters up for the Frick Award can go the Baseball Hall of Fame website which gives some details.
The announcement of the 2008 winner of the Frick award will take place on February 19.