Posted on
January 16th, 2008
by The Baseball Zealot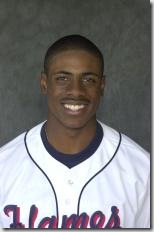 This Friday, Detroit Tiger Curtis Granderson will be inducted into the University of Illinois at Chicago Athletics Hall of Fame. There will be a ceremony marking the event at Lombard, Illinois. He and his fellow inductees will be honored at the UIC Flames-Mercy game on Saturday.
Grandy was named second team All-American after his junior year when he hit .483 with 9 homeruns.
At this point, Granderson is the only major leaguer from the University of Illinois Chicago.
It may possible that another UIC product may be on his way. In last year's First Year Player Draft, Ryan Zink, also from UIC, was drafted in the 17th round (544th overall) by the Yankees. Zink is a righthanded pitcher who at this time in his career is working as reliever. A quick look at his stats shows he has done ok since going pro. In A ball, he's gone 6-1 with a 3.23 ERA with a 7.42 K/9 IP.
No tags for this post.