Posted on
January 14th, 2008
by The Baseball Zealot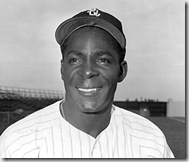 On Saturday, White Sox legend Minnie Minoso was honored with the Jackie Robinson Legacy award. He was only the fourth person to get the award after Yogi Berra, Buck O'Neil, and Bob Feller.
The award honors those who are ambassadors for the game. Minnie's comments after receiving the award exemplify his qualifications:
"As long as I be able to talk," Minoso said, "I'm gonna be talkin' about this game. I talk to anybody. I tell everybody how I feel."
No tags for this post.