Posted on
January 8th, 2008
by The Baseball Zealot
Goose Gossage, top reliever from the 70s and 80s, finally got his due. In his ninth year of eligibility, he was the lone selection by the writers.
Goose is known primarily for his years with the New York Yankees, a stretch of six years where he pitched well enough to even be considered for the MVP and Cy Young (he was third in voting in both in 1980).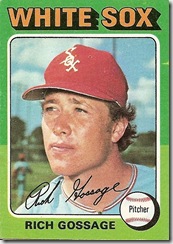 That said, he did pitch and pitched well for the White Sox and the Padres where he put together strings of five years each. It was with the Sox in 1976 when he pitched his last start. That year he started 29 games going 9-17 with a 3.94 ERA.
Since then, he didn't look back and his role was defined. Throughout his career he garnered 310 saves, leading the league three times. He currently is 17th all-time in that category, that record succumbing to the specialization of the bullpen ace.
Like Bruce Sutter who was selected two years before him, Gossage revolutionized the role the bullpen ace. Stats aside, he was part of baseball's change of bullpen strategy. How it approached the late innings.
The Rest
As much as this story is about Gossage, it also about those who didn't get in. I don't remember a year where so many players were on ballot who many feel could be easily justified entry into the Hall.
The Jim Rice debate has been going on for years. He missed this year by 16 votes. Andre Dawson (third in voting this year) has been a favorite of many fans. I've always felt Bert Blyleven deserves a nod but he's never gotten higher than 53.3% of the vote until this year. This time around, BB came close(r) with 61.9% of the vote.
Lee Smith, Dave Concepcion, Dale Murphy, the list goes on.
Then, of course there is Mark McGwire. I get the feeling that for most people, it's a hot/cold issue. Either you throw out any substance issues out the windows and cast your ballot or you don't. This year, 128 writers felt he was HOF-worthy and that ain't gonna cut it.
Rod "Shooter" Beck garned two post-mortem votes. But Travis Fryman?