Posted on
November 16th, 2006
by The Baseball Zealot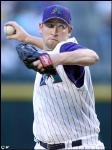 Brandon Webb was the best pitcher in the National League in 2006.
I'm still trying to convince myself of that. It's not that I necessarily disagree or anything. This year was just a weak year for superstar pitchers. Start with the fact that the high in wins, among ALL NL pitchers was 16 and six pitchers tied for that total. Add to that, only one starter Roy Oswalt, had a sub-3.00 ERA.
By the way, that total of 16 is the lowest amount for a league leader in wins (we're not counting the strike-shortened seasons of 1981 or 1994).
Trevor Hoffman with his 46 saves and 2.14 ERA came second in the voting. I'm not so sure it's because he was the second best pitcher. I think it was more that the voters saw what was out there and were looking for an alternative way to spend their vote. I think Hoff is a quality reliever but the fact is that if there was a Johan Santana in the NL, sorry, no votes for Hoffman.
Much was made of Carpenter and why he didn't win. Many pointed to his performance in the last few weeks of the season. Faulty logic, I say but there's nothing you can do about it. I just think you take the whole season, as is without letting a few games affect your vote.
That said, I think that the Cy Young vote was

As a Cub fan, I must bring up Carlos Zambrano. He came in fifth with only six votes. His stats were very similar to Webb's with one exception. Walks. His control is what really killed him.
But put those two in a homerun derby. No doubt who's the winner there.
No tags for this post.