Posted on
August 5th, 2007
by The Baseball Zealot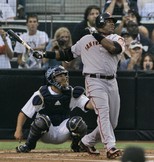 (Photo: Lenny Ignelzi/AP)
Bonds is tied in career homers with Aaron at 755. If you are a baseball fan of any sort, that's not news. Chances are you've seen the video clip and read a few news articles about it.
Maybe I'm jaded but so many mainstream news articles are filtered with the "right" things to convey they don't capture the essence of the moment.
On the other hand, I did enjoy this short posting on McCovey Chronicles. It's written by a Giant fan who works as a Padre employee and saw the whole thing. Despite the controversy, despite the scandal, he saw the magic in the whole event.
While on the topic of Bonds and Giants fans, here's a Giants fan, who tongue in cheek advocates for an asterisk by Bonds homerun stat. Read his posting and find out why.
And finally, here is an interesting factoid. Clay Hensley, the pitcher who gave up #755, was tested positive for steroids in 2005. The irony… you can cut it with a knife.