Posted on
February 22nd, 2007
by The Baseball Zealot
You and I as baseball fans have patiently waited through winter where there has been relatively little actual baseball news. Sure, there was the winter meetings, the winter leagues and of course the hot stove leagues. But no real action on the ball field since the 2006 postseason. You and I and the media put up with it.
But now, when spring training is about to start, when players are beginning to report, when there is actual news to report, what does the sports media decide to focus their attention on? They take a innocent comment taken from Alex Rodriguez about his relationship with a teammate, twist its meaning, and throw it back in his face.
I would like to say the sports media should take a good look at itself but let's face it, they do it for a reason. For the same reason, we get to see 24/7 coverage of Anna Nicole Smith on regular news channels when we have major issues in this country. People buy it.
And people wonder why I don't watch ESPN.
One Yankee person who IS spending a little time beyond the ARod/Jeter debacle is Cliff Corcoran from Bronx Banter. He sums up the players who are reporting for physicals for the Yankees' spring camp. I couldn't help noticing one name on that list. Chris Basak.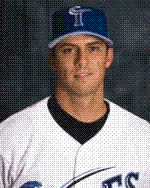 Infielder Chris Basak is a University of Illinois alum. He played for Itch Jones' squad in 1999-2000. That was when I started watching the Illini and I vaguely remember Basak playing. He stroked .393 in 1999 and .329 in 2000.
Good luck, Chris. And stay away from the media if you can help it.
No tags for this post.