Posted on
February 16th, 2007
by Teddy Ballgame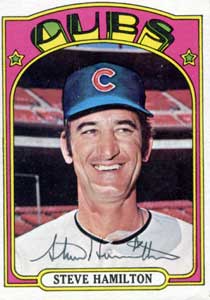 Steve Hamilton
My father and I went out to the ballpark to see MY White Sox on a Friday night. Not many other fans had the same idea, attendance 3,826. We had VERY good box seats, it was a special treat. My father has never been a baseball fan, so looking back on this night has special meaning, here's a man, who after working heavy labor as a carpenter, 40 hours per week, plus side jobs, to make ends meet, was happy to take his young baseball fanatic out to see some baseball. Some very bad baseball, to boot! The White Sox were enroute to a 56-106 season.
It was a beautiful night. Andy the Clown offered me a flower, but when you grabbed the stem, that's all you had, the flower was still in Andy's hand. Throughout the empty ballpark you could hear Andy urge, "COME ON YOU WHITE SOX!" The "Things go better with Peanuts" vendor came down our aisle, I still can see his SMILE, his nephew Maurice sells beer in the CF Fan Deck of the new Comiskey (and is a good friend of mine).
Of course the White Sox would lose the ballgame 3-2, but the thing I'll never forget is when Chicago brought on newly acquired relief pitcher Steve Hamilton. Hamilton was an aging 34 year old relief pitcher who was picked from the NY Yankees, with whom he pitched the majority of his career. With his skills to get big league hitters out diminishing, Steve came up with a gimic, the eephus pitch, or as he called it, the Folly Floater.
Some of the fans in the stands had heard of what might be coming, but I had no idea. Hamilton pitched 2 1/3 innings of scoreless ball, allowing two hits, and striking out two. I'm sure both strikeouts were on Folly Floaters, I think a basehit might have come that way as well. But I can still see the frustration some of the Milwaukee Brewer hitters had with the slow pitch and the smiles on the fans faces as this secret weapon was unleashed.
No tags for this post.