Posted on
February 5th, 2008
by The Baseball Zealot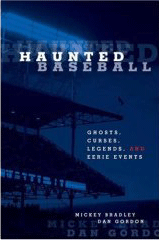 It's spooky enough that a Red Sox fan and a Yankee fan can get together and accomplish anything but the book Haunted Baseball (which has its own brand of spookiness) is proof enough that it can happen.
Dan Gordon (the Red Sox fan) is my guest this week on Baseball Zealot Radio and he's talking up the book. Here are the show notes:
Show Notes for Episode 37:
Hosts: Tom:
Summary: In this week's show, I interview author Dan Gordon who has just come out with his book, Haunted Baseball: Ghosts, Curses, Legends and Eerie Events with co-author Mickey Bradley. Dan talks about the impetus to write his book and relates some of the stories he heard when he and Mickey interviewed hundreds of baseball players in researching the book.
Links:
Haunted Baseball book web site
Haunted Baseball review on The Baseball Zealot
Time: 22:28
Date Recorded: 2/5/08