Posted on
January 14th, 2006
by The Baseball Zealot
Ok, when I heard that Bruce Sutter was tapped to enter the hallowed Hall of Fame, I have to admit that I felt a chill.  You know, one of those good chills.  Like, "this guy played for my favorite team when I really started following them" chills.  A get-down-on-one-knee-and-pump-your-fist chill.
Sutter was one of the cadre of relievers in the '70s who pitched when the ace stopper became a specialty.  This cadre included quality relief pitchers such as Goose Gossage, Rollie Fingers, Kent Tekulve, and Sparky Lyle among others.  Compared to their predecessors, there was no doubt what their role was.  Come in the 8th or 9th inning and get outs.
And Sutter was the best.
At least that's the conclusion we can draw.  Gossage may have something to say about that. 
Once the announcement was made, the media went in full swing asking their usual unoriginal questions.  Did Sutter deserve it?  What cap will he wear?  Who else should have gotten in?
I went to check out USA Today's coverage on the topic but when I saw they had a photo of Sutter in a Atlanta uniform, I quickly went somewhere else.  Ok, call me a dogmatic Cubs fan but good grief, he played 3 injury-plagued years in Atlanta.  Would it kill them to dig up an earlier photo of him in a Cub uniform? 
Like maybe this one when he won the Cy Young award in 1979?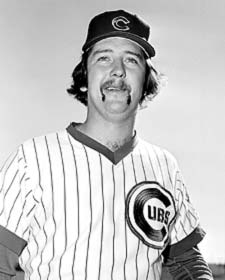 Congrats to Bruce Sutter! 
"Three more saves and he ties John the Baptist." Hank Greenwald on Sutter.