Posted on
February 4th, 2006
by The Baseball Zealot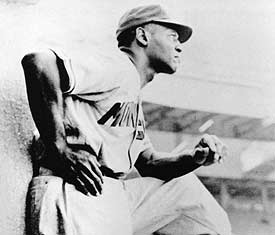 Buck O'Neil at 94 has been nominated for the Hall of Fame.  For some reason, I thought he was already in.  I think he'll be a shoo-in. 
I was struck by his comment in the last paragraph of this MLB.com article:
"It might happen," said O'Neil of his possible induction. "But if I don't get into the Hall of Fame, I still feel good, because I think I've done a pretty good job."
I guess at 94, you can afford to be introspective but I still think some whiny modern-day players can take a lesson from O'Neill about modesty and being humble.
Update:  I've since noticed that O'Neil's last name is spelled with one "L".  Which is interesting since the article I quoted above from mlb.com had it spelled with two "L"s.  I went back to the quoted article on mlb.com and apparently they realized their mistake too because they changed it to the correct spelling. 
I've corrected the misspelling as well.
No tags for this post.