Posted on
April 8th, 2008
by The Baseball Zealot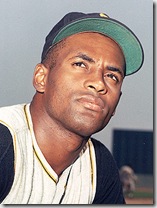 University of Illinois professor and author of "Playing America's Game: Baseball, Latinos, and the Color Line", Adrian Burgos wanted me to get the word out about upcoming PBS special on Roberto Clemente. He worked as an advisor to the project. Dr Burgos writes:
"Please spread the word about the PBS special on Roberto Clemente. I served as an academic adviser on this project and we have tried to give voice to Clemente as a complete person, not just a ballplayer, and as someone who was Puerto Rican and proud of being a black boricua, committed to social justice, and the dignity of all people."
The press release for the American Experience program, "Roberto Clemente" is below.
We are very pleased to announce the premiere of our first production,

Roberto Clemente, for PBS's award-winning history series, American

Experience.

Roberto Clemente was not the first Latino to play in the majors, but he was

the first Latino star to have a clear and lasting impact on the game of

baseball. As an outspoken and at times controversial player, he helped to

shatter stereotypes about Latinos and paved the way for the next generation

of Latin American and Caribbean ballplayers.

In an era before players had handlers and press agents, Clemente was a bona

fide humanitarian and activist. "If you have the chance to make things

better for people coming behind you, and you don't," he famously said, "You

are wasting your time on earth."

Please join us for the broadcast premiere on Monday April 21st at 9:00pm ET,

after which a Spanish-language version will be available for free viewing

online at

http://www.pbs.org/wgbh/amex/clemente/

Roberto Clemente features interviews with Pulitzer Prize-winning authors

David Maraniss (Clemente) and George F. Will (Men at Work: The Craft of

Baseball) as well as journalist and author Juan Gonzalez (Harvest of

Empire), Vera Clemente, Baseball Hall of Famer Orlando Cepeda, and former

teammates. Golden Globe Award-winning actor Jimmy Smits (The West Wing, NYPD Blue) narrates.
I encourage everyone to check it out.