Posted on
December 23rd, 2007
by The Baseball Zealot
This is the last of a three part series of articles where I talk about my favorite baseball websites I use for research and reference. In Part One, I hit on the top stats sites and in Part Two, I focused on prospect and player development.
In Part Three, it will be a bit of eclectic hodgepodge but a couple sites fall into the category of historical data collecting.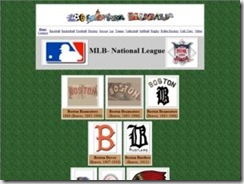 Baseball LogoServer is exactly what it sounds like. It displays logos of pretty much every baseball team that has ever existed. We're talking current major league teams as well as historical teams but it doesn't stop there. Baseball LogoServer shows off the colors of teams from the Negro Leagues, Japanese leagues, most minor leagues, college conferences, even older defunct leagues like the Federal League, Players League and the Union Association.
The LogoServer is a fun trip through baseball history in graphic format. And for those interested, it has logos for other sports, too.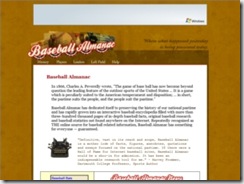 The Baseball LogoServer is associated with The Baseball Almanac, a website dedicated to preserving the history of the game of baseball. The Baseball Almanac probably deserves its own entry here given its breadth of historic data. The site is filled of pages of famous firsts, records, lists of all sorts and other baseball trivia. Those who are really into the history of baseball should definitely bookmark Baseball Almanac.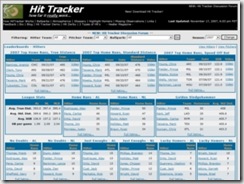 Make no mistake about it, the hits that Hit Tracker are talking about are Homeruns. This website is all about the dinger, tater, long ball and the four-bagger.
Hit Tracker is a online database of homeruns hit. With an interactive interface, you can find out all kinds of info about homeruns that have been hit (their info goes back to 2005) including true distance, wind speed, speed off bat, elevation angle. The site even includes a link to MLB.com's video of the shot if you want to watch it.
Hit Tracker also has a leaderboard for non-conventional categories such as Homerun Distance, No Doubts (Homeruns that clear the fence with no problem) and Just Enoughs (those that just barely make it).
Baseball Library.com is a database of player (both current and historical) biographies. I'm impressed at the number of entries in this database. Granted, the lesser known ones have smaller bios but they are there.
There are two features that make Baseball Library stand out:
Chronology: The Chronology for each player is so helpful. Essentially, it is a timeline with entries with important events in the player's career. This includes transactional moves, great games, basically any time they made the news in a big way. There are helpful links to other players, teams and dates to further the interactive process.
Related Info: Under Related Info, Baseball Library provides links to news stories or articles about the player.
For info on individual players, Baseball Library is the first place I go.
That ends my series of Top Reference Web Sites for Every Baseball Fan.
All sites reviewed are ones that I use as often as I can. By the way, I polled the Baseball Zealot think tank on sites they used. The ones they used that I just didn't have the time/space to write about include: Rototimes, Tango on Baseball, Fangraghs, Baseball America Online, ESPN, and CBS Sportsline.
I personally want to put a good word in for USA Today Sports. They display all the box scores on one page and I use them for that reason alone.
Here is the link to all three articles in the series.
I hope you enjoyed reading it and found it useful.
No tags for this post.