Posted on
March 15th, 2007
by The Baseball Zealot
Paper of Record claims to have the largest searchable archive of historical newspapers. Fortunately for us baseball fans, one of those newspapers is The Sporting News.
Let the searching commence!
Paper of Record seems to have issues of TSN dating back to 1886. Here's a screen cap from a 1905 issue: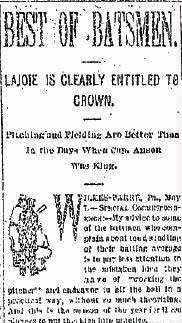 Needless to say, there is a plethora of sports information at your fingertips. A caveat: you will need to go through a painless registration process before you can embark on your historical journey.
Hat tip to CLuke who pointed this out to me.
No tags for this post.