Posted on
April 13th, 2007
by Teddy Ballgame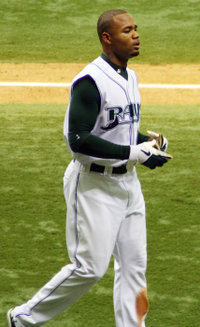 Carl Crawford
On the day before Friday the 13th, Ben Zobrist got a leadoff single to left off Joe Nathan in the 9th inning of a tie game. The Rays next batter was Carl Crawford who lined a triple into the rightfield corner. Only thing was, Zobrist wasn't fast enough to make it all the way around the bases. Ben stopped at 3rd, Carl motored into 3rd, Michael Cuddyer hit Luis Castillo with the relay throw, he in turn threw it to Joe Mauer, who ran Zobrist back to third, and tagged him out. To make matters worse, Crawford attempted to go back to second, Mauer threw to shortstop Alexi Casilla who applied the tag. In a strange turn of events Carl Crawford got a double & a doubleplay in the same at bat.
So instead of having runners on 2nd & 3rd with nobody out, TB had two outs, and nobody on. Nathan, the Twins, and the fans were psyched, and got the third out on a grounder. Of course you guessed it, in the bottom of the 9th, the 2006 AL MVP was the leadoff man for Minnesota, and Justin Morneau lined a game winning home run just over a leaping Carl Crawford in left.
No tags for this post.