Posted on
May 10th, 2008
by The Baseball Zealot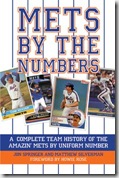 I just finished the book Mets By The Numbers: A Complete Team History of the Amazin' Mets by the Uniform Number
by Jon Springer and Matthew Springer. The book's title is pretty self-descriptive. I don't think it leaves out a single player that ever played for the NL New York team. Creatively titled chapters start from Uniform #1 and the New York Mets that had that number and go from there.
There's a bit of a bio or trivia that goes with each player (at least the ones that any major playing time). Plus at the end of each chapter, a complete rundown on the uniform number; how many Mets had the number, the best season by a Met with that number etc.
From Mookie Wilson (#1) to Turk Wendell (#99) not to mention Rey Ordonez who debuted with a #0, this book delivers as promises. It goes without saying that this book would definitely interest a New York Met fan more than anyone. It's possible that a baseball history buff might enjoy this as well for all the trivia as well.