Posted on
April 23rd, 2008
by leeknay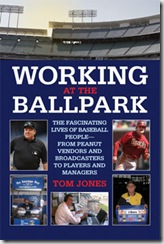 I met TBZ at a fantasy baseball auction draft recently. He handed me a book he received from a publisher and asked if I was interested in reading it and posting a review. I love to read, and I'm always in the middle of at least one or two books. But it would be an understatement to say that I am not the fastest reader in the world. I've never been able to "plow" through a book, probably because I don't give myself any deadlines. Thanks to TBZ I finished Working at the Ballpark: The Fascinating Lives of Baseball People from Peanut Vendors and Broadcasters to Players and Managers by Tom Jones in a personal record time.
The book is comprised of fifty interviews of people who are involved in major league baseball in some fashion. Each interview is its own chapter making it very easy to read a few minutes at a time.
Jones presents each interview in the voice of the interviewee. He recorded each of his interviews and did a wonderful job preserving the speaking styles and tone of each person. They come across more like a conversation than an interview. He does not print the questions he asks so you don't "hear" the author at all. In the style of a film documentary, you only see and hear the subject. This made for very enjoyable reading.
He talked with some of the more obvious subjects: players, coaches, managers, broadcasters, general managers, and front office executives. These people are constantly badgered by the press so you sense in their interviews that their answers are more groomed, polished, and somewhat restrained. But Jones also talks to the kinds of people who are not commonly sought after: clubhouse managers, groundskeepers, video coordinators, scorekeepers, and scouts. These are some of the more revealing interviews.
No one is left out, not even the food vendors or the ticket hustlers. Jones gets them all to talk. My favorite is the one of major league umpire Fieldin Culbreth. His insights on the pressures of being a major league umpire and how he deals with them are fascinating.
I would recommend this book to anyone interested in reading about today's game of baseball from uniquely different perspectives.