Posted on
January 25th, 2008
by The Baseball Zealot
If you look at the polls, the Pac-10 looks tough this year. They dominate the Baseball America poll which just came out. Four of their teams live in the top ten.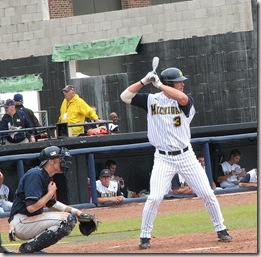 That said, at least one Big Ten team cracked the poll. Michigan impressed the pollsters enough to put them at #8. That may be deserved, too. One reason is Zach Putnam who I got a glimpse of at the Big Ten Tournament in 2007. One look at him this photo I snapped at the tourney tells you he's got the build to be a slugger. In 2007, he hit .330 with 8 homers. And yes, Michigan fans, he's only a junior.
I got the chance to speak to Putnam's father at the tournament. Of course, he was talking his son up as much as possible. But I get the feeling that this guy might live up to the hype. Scouts have been following him since his prep school days. Oh did I mention he could pitch, too? He went 8-5 with a 3.87 ERA and 87 Ks in 102 IP in 2007 for UM.
By the by, that's Penn State's Joe Blackburn catching. The Big Ten has a reputation for developing some good catchers and Blackburn may be no exception.
No tags for this post.