Posted on
January 20th, 2007
by The Baseball Zealot
7:17am Saturday Morning:
Oh yeah, 16 degrees too.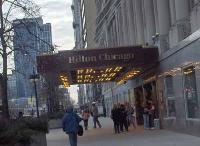 Two words… overwhelmingly crowded and Blue. Ok, that's three words but you get my drift. I'm borderline claustrophobic so it took a while to get acclimated.
I learned my lesson last night. If you want to get in the main room to see the big guy speak, you need to get there at least an hour early. I thought I was doing well to get there 30 minutes earlier but no go. Chicago's finest kept telling us to "push" on into this hallway. Something in the back of my mind was telling me, "I hope there isn't a fire".
Those of us who didn't get into the main ballroom ended up seeing Piniella speak not live but on a series of wide-screen displays in the hallway. What we in the hallway did see that the folks already sitting did not was the Cubs players and celebs running the gauntlet on their way in. Crowd reaction ranged from "Who was that" to hoots and hollers. When Lou Piniella came through, all you could hear was "LLOOOOOUUUU!
Who can remember during Piniella's playing days when the broadcasters would always remind the novice fans that "They're not booing, they're saying Loooouu."?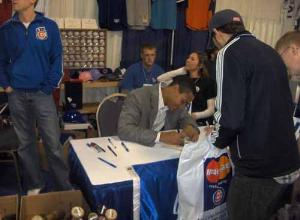 Eric Patterson signing autograghs
There are two huge exhibition halls filled to the brim of organizations and vendors who are selling their selling their wares. One high point was meeting was meeting Lou, Sheps, and Sneetch from Cubcast.com. They seem like pretty nice guys. See the previous post for a photo of the group.
I got a chance to shake Billy Williams hand and get my picture taken with him (it's on Tyler's camera right now so I'll post it later). Bill Madlock signed my APBA card, too.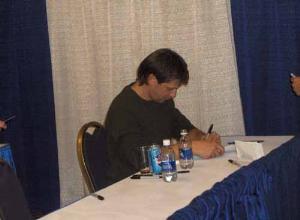 Mickey Morandini
By the way, the Cub fans have quite a fascination with Mickey Morandini. Earlier, when Morandini walked through the "gauntlet", it was "hey, look! it's Mickey Morandini!" And the lines for his autograph go out the door. Don't get it.
I bought a hat that belonged to "Sarge" and wore last year. He has a pretty small head.
Time for me to get dressed and get going for Saturday's events.