Posted on
June 5th, 2006
by The Baseball Zealot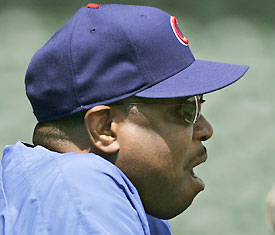 Dusty Baker "feels Pujols' pain". To his credit, Dusty didn't really say that. That was just MLB.com's Carrie Muskrat's take on the whole thing. In fact, it would be more accurate to say that he feels Tony LaRussa's pain.
"You don't like to see anybody hurt at all," Cubs manager Dusty Baker said Sunday. "We've had our share of injuries. It just goes to show you it's a long season, No. 1, and No. 2, it's a test of who has the most depth. That's what it boils down to — who has the best bench? Who has the best secondary players who can play in a primary role for a long period of time?"
What I guess Baker was trying to do was empathize with the Cards plight. And I guess he's gone through some of the woes that LaRussa will have to face.
But it's not the same.
Speaking of Albert, the MRI results came back but it doesn't seem the Cardinals know much more than the they did before. The results of the tests were inconclusive. LaRussa is approaching it with the right attitude, in my opinion.
"You just don't know," St. Louis manager Tony LaRussa said. "You can do anything you want to, but I'm not going to get into this day-to-day soap opera with Albert's this and Albert's that."
The less focus on Pujols and the injury on a team level, the better for the Cardinals.