Posted on
September 5th, 2007
by The Baseball Zealot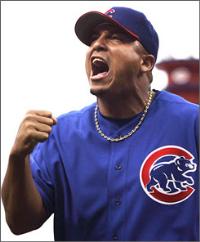 Call it the Curse of the Long Term Contract or maybe The Curse of the Rainout.
Either way, since Carlos Zambrano has signed his five year contract (and pitched 3 innings of perfect ball only to have the game called because of rain), he has been less than effective.
Ok, that's putting it nicely. Quite frankly, he's stunk. He has a 8.29 ERA and 0-5 record over that period. Not only that, he's close to 6 walks per 9. Hopefully, Monday's game is the bottom of the barrel for him and he can start climbing out of his funk. After his baserunning boner, he fell apart against Dem Bums and allowed 8 runs.
The media came out strong against Zambrano's blast of the fans. Maybe it's me but I don't think he was THAT out of line. Derrek Lee came out against the booing and I'm glad he did. Bonus: he took Big Z for missing the stop sign.
"I'm a grown man. I know when I make a mistake. I know what I'm doing. I know when I have to come to whoever I offended. I don't think somebody has to tell me what to do,"
I'm sure it wouldn't hurt. I'll bet Z had a nice chat with Rothschild and Piniella. Hendry says that nobody told him what to say. For some reason, I'm dubious.
Zambrano has been inconsistent all year and this is the time of year we really need him. The timing of this downturn doesn't help his cause.
Zambrano is a different personality. Do I expect him to come forward and be a team leader in the way that Derrek Lee is. Probably not. But I do expect him to pitch effectively and consistently. Whatever it takes to get him to that point, be it a missed start or whatever, Lou needs to do it.
And fans, get off his case. I don't think the booing helps.
Update: Cubs are now up 4-2 and Lilly pitched well allowing 2 runs in 6 2/3 innings. Maybe we can salvage this last game.