Posted on
September 29th, 2007
by The Baseball Zealot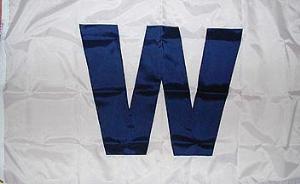 Looks like at least one of my predictions will be right for the NL this year. Thank goodness it was the NL Central.
Zambrano brought his A game to the mound for his last start of the season. He was in complete control for the whole game allowing six hits and no runs (and one walk) over seven innings.
My kids stayed up with me to watch the game. My seven year old daughter even attempted to stay up to watch the end of the Pads-Brewers game to see if we would clinch. Bless her heart she dozed off by the ninth. When I roused her to tell her that the Cubs were going to the playoffs, she mumbled, "Good" then fell back asleep.
She was much more excited about the matter this morning.
One lasting image that will stick with me?? Seeing the multitude of fans rooting for the Cubs at Great American Ballpark in Cincinnati. When the scoreboard showed that the Padres had jumped ahead of the Brewers 4-3. it seemed the whole stadium erupted. Even through the TV, I could hear the chant, "Let's Go Cubs! shouted in unison.
I took a day off from the Cubs today instead taking my aforementioned daughter to "A Game Plan" (actually, not a bad movie… if you have a young daughter, she will love it). I see that Rich Hill got the job done putting to rest any idea that the Cubs are backing into the playoffs.
Next up, Ted Lily on Sunday.
Finally, I leave you with this video that Tyler from Baseball Zealot Radio subjected me to. Can't say much about the music. A college student who works for me says it's based on song that's popular with the kids these days. But it does has some cool Cubs imagery.