Posted on
February 25th, 2008
by The Baseball Zealot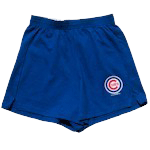 After 2B Mark DeRosa experienced an issue with an irregular heartbeat, he declared it to be "not a big deal". Now, it seems that he is being sent back to Chicago for further tests with the possibility of outpatient surgery.
Fortunately, it does seem treatable. According to the Trib, "the Cubs second baseman could live with for his entire career with no ill effects."
Cubs rival Milwaukee Brewers will be packing the stands this year. They set a one-day record for ticket sales. Their total of 98,000 tickets sold broke the record of 94,000 set in 2006.
Apparently, I was wrong the other day when I insinuated that Cub fans wanted to push Alfonso Soriano lower in the lineup. Cubs blogger Joe Aiello from A View From the Bleachers makes his argument for keeping Soriano in the leadoff spot.
Finally, there has been a legal battle brewing between the Chicago Cubs ballclub and Wrigley Rooftops, one of the businesses that charge admission to watch the ball games from the surrounding rooftops. The conflict has to do with honoring a profit sharing agreement. At least that's the team's side of the story.
The Cubs are threatening to block the view of the field if the conflict isn't resolved. You can read the lawsuit here.