Posted on
January 28th, 2008
by The Baseball Zealot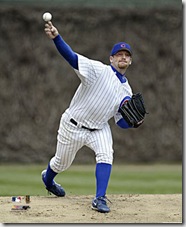 I dunno… I find this comment by Cubs pitcher Ryan Dempster somewhat unsettling:
"Now I can go out there and not be afraid to give up a run because it's not going to mean the game. You can be a starter and give up three runs in the first, and go six more innings and everybody talks about the great job you did. If you're closing, you give up one run and sometimes they want to run you out."
Dempster, of course, is talking about his impending move to the rotation which seems to have at least some Cub fans puzzled. His 4.99 ERA and 51-58 record as a starter leaves something to be desired.
With a plethora of starting pitchers coming back from 2007 and the current acquisition of Jon "Let's get that Magic back" Lieber, Cubs management still seem determined to try Demp in the rotation.
Lou Piniella said at the Q&A at the Cubs Convention that "there is no such thing too much starting pitching". Unless we dump one or two in a trade, we may test that theory.