Posted on
December 7th, 2007
by The Baseball Zealot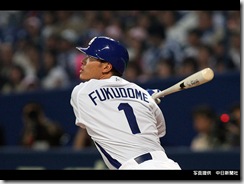 Kosuke Fukudome may be the best move the Cubs make this off-season… if they can pull it off. 
First things first.  The pronunciation of his name.  American males are having a field day with this one.  I remember the year when Chien-Ming Wang came up.  At fantasy draft time, most of the guys were having a good ol' time mispronouncing Wang's name in all kinds of sophomoric ways.  Now, I work with Chinese people (a few of them actually named Wang) so the humor was lost on me.  I know, I need to lighten up. 
Anyway, near as I can tell Fukudome's name is pronounced Koh-soo-kay Foo-koh-doh-may.    It's possible that the "u" in Kosuke is silent like in Daisuke.  If anyone knows please chime in. 
As for Fuk's chances for playing for the Cubs, it's still actually up in the air as to whether he'll even play in the U.S.  As of 12/7, he is still entertaining an offer to play for the Yomiuri Giants.  He is expected to make a decision next Tuesday or Wednesday. 
Of course even then, the battle isn't over.  The Cubs will have to take on the other MLB teams vying for the rights to Fukudome.  Most prevalent is the San Diego Padres who have expressed a big interest in him. 
The cost for Fukudome?  All told it looks like it would come to around $75 million for 5 years.  The question is "Would he be worth it?"  I heard someone say that Fuk hits "as good as Ichiro with power".  Now, that's more than likely overly simplistic as well as overly optimistic but it does give you the value of this potential Japanese import. 
With Jacque Jones' departure from right field, Fukudome left handed bat fits the Cubs like a glove.  Right now, it's just a waiting game.
Correction:  As I wondered, the correct pronunciation of his first name is Koh-skay.  Thanks Bleed Cubbie Blue!