Posted on
February 14th, 2007
by The Baseball Zealot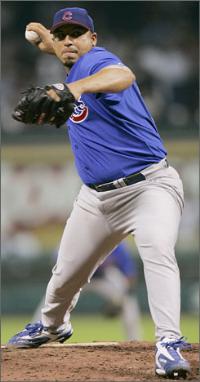 Carlos Zambrano is talking in the third person.
"Whatever happens, I don't want to know about a contract during the season. I want to sign with the Cubs before the season starts. If they don't sign me, sorry, but I must go. That's what Carlos Zambrano thinks."
"Jim spent a lot of money. I hope he has more for 'Big Z."'
And I do too. There's no doubt he's worth it. In this year's market, where Ted Lilly and Gil Meche are commanding the sums that they are, can the Cubs reach in their pocketbook one more time and give Z what he's asking?
A Cub fan and I once drew up a list of "untouchables" on the Cubs roster last fall. I have to say that list was pretty small. But Carlos Zambrano was on that list. If they won't look at it from a baseball point of view, perhaps a business one would convince them. Z has fan appeal. Anyone who saw the 3 block line waiting for his autograph would see that.
He's banking on today's "Zito" market and fact that the Cubs are spending money this off-season. I just hope they don't start balking when it comes to their best pitcher and one of their best players.