Posted on
April 24th, 2006
by The Baseball Zealot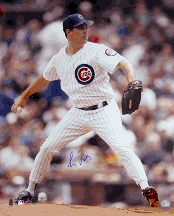 Greg Maddux did it again. 
But this time, it really mattered.  The Cubs really needed this.  In the worst way possible.
I submit to you four reasons why the Cubs needed Greg Maddux to come through yesterday and to do it the way he did.
Reason #1:  The Cubs needed a win, any kind of win.  They haven't won since Derrek Lee went down Friday night (and I guarantee you, any thinking Cub fan would trade that win for Derrek Lee back in the lineup right now).
Reason #2:  The Cubs needed to win the last game against St Louis to avoid a sweep.  The players (and more importantly, the fans) don't need that hanging over their heads.  In addition, winning that game gives the Cubs a one-game series advantage over the Cards.
Reason #3:  Had they lost that game, they would be 9-8, precious close to a .500 record.  Maybe it's perception but 10-7 gives them a little more breathing room as they head in to their series with Florida.
Reason #4:  Maddux winning this game the way he did (0 ER in 7 IP) gives the Cub players (and fans) something positive to think about.  Let's not forget there are quality players (and pitchers) who are still playing.  The mantra I kept hearing from Cub fans and bloggers was "we need to stay .500 until Prior and Wood get back".  Well, not only are they are doing that, they are managing to win a few more. 
Go Cubs!