Posted on
April 6th, 2007
by The Baseball Zealot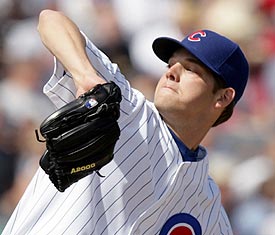 No downslide for Rich Hill
Watched the Cubs game on the TV tonight. Well, once the first inning was over, Milwaukee starter Homer Bush pitched a good game pitching five scoreless frames. However, it was the first that ultimately did him in. The Cubs managed to plate six runs.
To me, the big story was lefty Rich Hill. He retired the first fifteen batters before Corey Hart took one deep. That would be the only run and only hit Hill would allow in his seven full innings.
Hill's overall stats were mediocre (6-7, 4.17) but his last two months were awesome for a rookie. He was 6-3 with a 2.58 ERA from August 1 on. Add to that, he had 78 Ks in 76 plus innings. I said it on the last episode of our podcast… one key to the Cubs pitching will be Rich Hill.
That makes three very solid outings in a row by Cubs starters (unfortunately, Marquis' was ruined by the bullpen antics). Ironically, Zambrano was the only one who has had a rough outing. He'll come around, I'm sure.