Posted on
April 1st, 2008
by Teddy Ballgame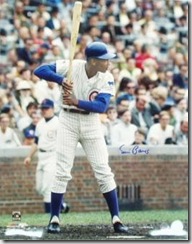 Even this hardcore White Sox fan would have liked to have been on the corner of Clark & Addison yesterday for the unveiling of Mr. Cub's statue. The rain was pouring down, but it didn't seem to dampen the spirits of those who were on hand to honor Ernie Banks. Some of the present were Hank Aaron, Billy Williams, Ferguson Jenkins, Ron Santo, Minnie Minoso, Mrs. Caray, Mrs. Brickhouse, Illinois Governor Rod Balogojevich, and the Reverend Jesse Jackson.
Hank Aaron gave a very nice talk about Ernie, telling us all, what we pretty much already knew, about being enshrined into the Baseball Hall of Fame, his two NL MVP's, being an NL All Star 14 times, hitting 512 home runs, and more home runs as a SS than anyone else in NL history. But all the stats don't tell the whole story, not by a long shot, not when you're talking about Mr. Cub.
Soon it was time for Mr. Cub to take center stage. Despite a raspy voice, due to a cold, there he was, with that ever present twinkle in his eyes, happy to be there. Ernie was always happy to be there. Banks commented on how fortunate he was to have played all his games for the Chicago Cubs, at Wrigley Field, and under God's natural light. He never bemoaned the fact that he didn't have the opportunity to win a World Series. Ernie has always been a winner, and maybe being a winner has more to do with what's in your heart, than winning and losing. So here's to you Mr. Cub, LET'S PLAY TWO!