Posted on
June 22nd, 2007
by The Baseball Zealot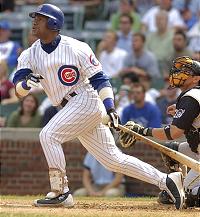 I never understood the "hatin' on Sammy" thing. Many of my Cub fan friends are bound and determined to think ill of Sosa since he left our team. Not me.
Let's make one thing clear. While I think it's great Sammy has reached his milestone, I sure wouldn't have minded if he had waited till the Texas' series with the Cubs was over. The media had a field day with it but I didn't.
That said, I guess it's hard for me to get down on any player who contributed as much to my favorite team despite the manner he left it. Let's face it, in the thirteen seasons he played for the Cubs, he gave us 545 homeruns, 1414 rbis, and 1245 runs. All that for ONE team. My team.
Not to mention he was involved in one of the most exciting homerun races in recent history albeit one that has been tainted slightly. Sosa has recently been maligned about how he handles the press but let's not forget how exciting he was back then and the press ate him up. He handled that well.
For all that, I'm willing to give Slammin' Sammy a mulligan for his transgressions in his time near the end with the Cubs.
It is said that Sammy Sosa has big ego. Those who actually know him would say that he is a proud individual. A fine line maybe. Either way, I'm happy for him.
But couldn't he have waited just a couple of games?