Posted on
February 21st, 2008
by The Baseball Zealot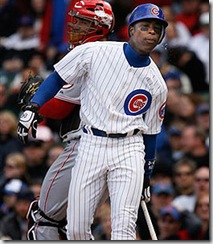 According to Cubs beat writer Carrie Muskat, Sweet Lou Piniella is mulling over a 3-4-5 combination of Fuk, Lee, and Aram. Well, unless he plans to bat Soriano 6th, that probably means he means to continue the waste of power by batting Alfonso leadoff.
Sure enough, later in article, Muskat seems to read my mind and confirms a lot of Cub fans' fears. She writes, "Alfonso Soriano would still lead off, followed by Ryan Theriot."
I used to justify Soriano batting leadoff saying that it was the only place he could produce offensively. Which was true. You could look it up. But now, it's getting frustrating and I'm wondering if it's a self-imposed limitation. On the last podcast, Todd V expressed the same sentiment saying that it's a case of a player making a decision for the team.
Don't get me wrong. I love Soriano. I actually reeeeaaallly like him. I love his attitude. I like the fact that he shows up early to spring training. I like that last year, when Felix Pie was new to the team and new to the town, he befriended him and and made him welcome to the point of inviting him to his house for dinner. I like the fact that he's made great strides in improving his defense so now we can even say, "Hey, he's actually not bad out there!".
But dang it, someone who hits 30+ homeruns should have more than 70 rbis. It's no surprise, that's the lowest figure in the majors for players with 30 homers. It's not even close… Griffey is second with 93.
And if he isn't driving in runs, he should be scoring them. Soriano didn't break the century mark in 2007 with 97. A good number to be sure but not warranting a power hitter hitting in the leadoff spot.
Soriano historically has had issues with getting on base. To his credit, he HAS improved but not that much. Three years ago with Texas, he had a horrendous .309 OBP. He's improved to .351 and .337 respectively.
But again, not enough and waste of power.
Lou Piniella has won more World Championships than I have and I'm sure he knows what he's doing. But his reluctance to move Soriano out of the leadoff spot still frustrates me.