Posted on
June 20th, 2007
by The Baseball Zealot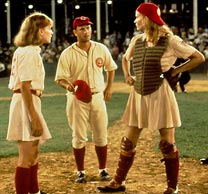 When I heard that the Cubs traded Barrett to the Padres, I immediately thought of the scene in A League of Their Own where poor misunderstood Kit finds out that she's been traded. I can just see pretty Dottie Hinson say, after having the ball thrown at her, "You!? They were supposed to trade ME!" Though I somehow I doubt Zambrano entertained that idea.
Quite honestly, I don't like trades like these. The Barrett-Bowen trade was made more for HR reasons (that's Human Relations, not HomeRun) rather than team improvement. Additionally, it almost seems like it was a public relations move. A trade to make things right. Trades made under these situations are obviously made for reasons outside of realm of baseball talent.
Cub fans as are most baseball fans, are a picky bunch. It wasn't just a year ago that hard core fans considered him a hero for landing a punch on cross-town rival backstop A.J. Pierzynski. On top of that, he was a solid hitter, solid enough to win the 2005 Silver Slugger award.
But things change and so do attitudes and apparently defensive skills. As an aside, it kinda surprised me that Barrett is only 30. It seems like he's been around for a while. Anyway, with a overload of young catchers waiting in the wings, the Cubs have had their fill of Barrett. At least that's what I hope. Even if they are using the Zambrano and Hill incidents as an excuse to bring in some new blood behind the plate, I wouldn't mind. But please, I hope this isn't any move to simply move Barrett without any long-range
plan.
By the way in addition to Rob Bowen, the Cubs did get OF Kyler Burke in the deal as well. You can see the breakdown of his minor league stats here. Nothing too special hitting .211 with one homer in 213 at-bats playing for the Fort Wayne Wizards (Low A ball). The good news is that he's only 19.
Farewell, Mr Barrett.
Followup: Here's an article from Chattanoogan.com about Burke's trade to the Cubs. Burke is from the Chattanooga area.