Posted on
March 14th, 2007
by The Baseball Zealot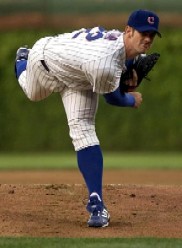 I enjoy MLB Radio for what it is. They have inherent access to the game of professional baseball and their interviews are reasonably good and the content is entertaining. But sometimes I wonder if they are a little out of touch with the game being stuck up those ivory towers in New York.
The day the Cubs announced that Mark Prior was going to start the season in the minors, MLB Radio's Casey Stern was aghast and just couldn't understand why a team would do that to a pitcher like Prior. A pitcher with confidence problems, Stern thought, had no business in minors. Stern obviously has not been following the trials and tribulations of the Cubs' pitching rotation the last few years.
Stern, I suppose, can be forgiven. It took the Cubs management a long time to come to the decision that Prior was NOT going to be a major focus in 2007 (though even last week I heard a talking point from Cubs brass mentioning him being an important part of this year's staff). If management can't come to any consensus, how can we expect the mainstream sports media to understand.
Let's face reality. Prior (and for that matter Wood too though he is showing some success out of the bullpen) should not be counted on for 2007. Anything we get out them this year I will consider icing on the cake. I think the writing has been on the wall for Prior for a while now.
For now, we anchor our rotation with Carlos Zambrano, the two overpriced ones (Lilly and Marquis), and a host of young talent (Rich Hill, Sean Marshall, Angel Guzman). Oh yeah, Wade Miller too.
Is there hope for Prior? I hope so. For his sake as well as the Cubs. But I won't count on it.