Posted on
July 31st, 2007
by The Baseball Zealot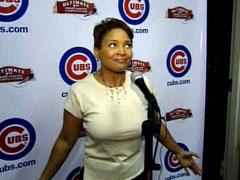 (Photo:NBC News)
A host of Cubs fans are auditioning for a chance to sing Take Me Out to the Ballgame during the seventh inning stretch at the September 22 ballgame.
As many as 2700 fans are auditioning and the organization will narrow it down to 50 semi-finalists which will be voted on by fans.
Singing ability will not be a pre-requisite:
"Harry wasn't Pavoratti. It's not necessarily about singing ability. It's about passion and enthusiasm for the Cubs and I think you've seen that from a lot of our contestants today," added (Cub's Jay) Blunk.
That last point can't be stressed more. Anybody will be better than country singer Kellie "They call that the outfield, right?" Pickler, right?