Posted on
June 30th, 2005
by The Baseball Zealot
If you are watching the Cubs game Friday, pay special attention to who's throwing the first pitch out.  He's quite a guy.
Wild Bill Holden, the Cub fan who has walked from Arizona to Illinois in order to raise money for juvenile diabetes research, will reach Wrigley Field tomorrow.  In the meanwhile, he has raised $155,000 for the Juvenile Diabetes Research Foundation from his Walk-the Walk campaign.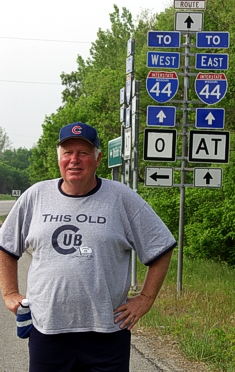 Wild Bill will throw out the first pitch and lead the crowd it Take Me Out to the Ballgame during the seventh inning stretch at the Cubs game against the Nationals Friday.   It's all well and good to have actors and politicians do this on a daily basis.  On Friday, there will be a true hero filling this role.
Here's a link to a good (and recent) article about Wild Bill in the Herald News.  It's very good.  Check it out.
Knock 'em dead, Bill.