Posted on
October 10th, 2006
by The Baseball Zealot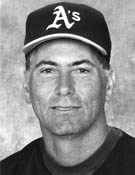 Taking his fantasy baseball just a little too seriously
Back in the early 90's, Tom Candiotti had Jeff Kent intentionally hit by a pitch because he was doing too well against him in his fantasy baseball league.
"It's '92 or '93," Candiotti says. "I'm playing for the Dodgers, Jeff Kent is with the Mets. I'm in a fantasy baseball league. I don't have Kent on my team and he's off to a torrid start and he's killing me."

The Dodgers are in New York to play the Mets. Ramon Martinez is warming up in the Dodgers' bullpen to pitch the series opener. Candiotti strolls to the pen and, within earshot of Martinez, tells pitching coach Ron Perranoski, "Perry, I just talked to Bret Saberhagen, and Sabes told me that if Kent gets drilled his first time up, he's mush for the rest of the series."

First inning, Kent steps to the plate.

"Ramon just absolutely buries one in Kent's ribs," Candiotti says. "It was so bad that he went down on one knee, and he had to come out of the game. I sat there thinking, 'What did you just do? You told a complete lie, you got this guy drilled!'
It was then Candiotti realized that maybe fantasy baseball was too much for him.
Fantasy Leaguers, take heed. Know when to say when.
No tags for this post.