Posted on
April 13th, 2007
by Teddy Ballgame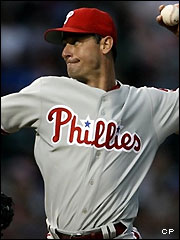 Jamie Moyer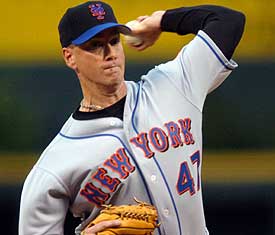 Tom Glavine
44 year old Jamie Moyer of the Philadelphia Phillies was matched up against 41 year old Tom Glavine of the New York Mets in a battle between the oldest lefties ever to square up against each other in baseball history. It was a match up that featured the oldest starting pitchers in a game since knucleballer Charlie Hough of the Florida Marlins was pitted against Frank Tanana of the NY Mets. It was said of Tanana, he threw in the 90s in the seventies and in the seventies in the 90s. Neither Moyer nor Glavine ever threw in the 90s, but they surely know how to pitch.
Despite two homers by Jimmy Rollins, Glavine got the better of Moyer on this night as the Mets beat Philadelphia 5-3. The last batter Jamie faced was Carlos Beltran with two outs & the bases loaded in the 6th. Beltran slammed his helmut down in disgust as Jamie blew a 78 MPH 3-2 heater passed him for strike three, swinging.
No tags for this post.