Posted on
June 28th, 2006
by The Baseball Zealot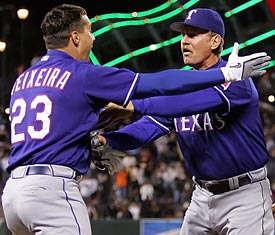 Mark Teixeira was robbed of a potential game-winning double and was tossed out of the game for his trouble.
Texas was down by a run with two outs in the ninth and two runners on. Teixeira, who was 0 for 4 with 3 Ks for the day, hit a line drive down the first base line which first base ump Tom Hallion ruled was foul.
Seeing Hallion's call, Tex simply went ballistic. Not so much angry but unbelieving. Well ok, he was a bit angry too. But I was watching the game and I'd be a bit pissed too if I were him.
They played and replayed the Teixeira's line drive and it was clear it landed squarely on the foul line. Anyone watching it could see the chalk spray up.
So Tex got himself booted from the game (by Hallion) as did Manager Buck Showalter and Mark DeRosa. Michael Young had been ejected earlier in the game.
Ranger owner Tom Hicks has gotten invloved in the foray. He's been on the phone with Mr Selig.
"I've communicated my disappointment to the Commissioner," Hicks said by phone from Dallas. "Umpires that make blatant mistakes, they need to be held accountable."
San Francisco held on for the win 5-3.
No tags for this post.