Posted on
July 22nd, 2008
by The Baseball Zealot
My friend from work, Steve Z, sent me these photos he took of Fenway Park. They were taken during a tour during an off-day.
(Click to enlarge the photos)
Steve writes:
Here are some shots from my tour of Fenway Park on July 4th. The place looks like it was built last year. Exceptionally good condition, but I guess that's what a couple of Championships will do for money! The Green Monster seats are cool. They are divied up by a lottery system…over 500,000 people are on the list! The same with the budweiser pary section in right field (don't know the lottery numbers there). Hope the blog readers enjoy one or more of these. Can't wait to get back to Boston for a game!

Oh, in the second photo, note the red "Williams" seat which shows where the 502 ft. longest blast in Fenway park history was hit by Ted Williams!
Here's a close-up of Williams seat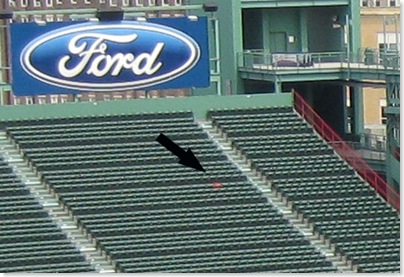 Thanks, Steve!!