Posted on
December 4th, 2007
by The Baseball Zealot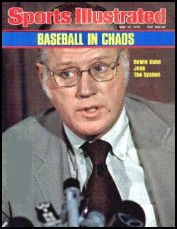 "I congratulate the Hall of Fame for electing five new members. I am particularly pleased that former Commissioner Bowie Kuhn is among those who have received this great honor. Bowie was a close friend and a respected leader who served as Commissioner during an important period in history, amid a time of change."

– MLB Commissioner Bud Selig
I wish I could share Bud's enthusiam for Bowie Kuhn's induction but I can't. Especially when they didn't have the foresight to elect Marvin Miller.
Shawn from Squawking Baseball puts it best in his article, The Hall of Fame has Issues when he says that "Kuhn, on the other hand, simply did his best to avoid failure."
I'm quite disappointed that Miller didn't make it in and that's compounded by the fact that Kuhn did.