Posted on
December 14th, 2006
by The Baseball Zealot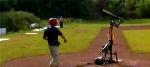 A contact hitter who won't take a walk. Not much power and certainly no speed.
It's a batting robot created by a tech firm in Germany called Robocross.
The video is quite humorous. A pitching machine continually pitching to a batting robot. There's a statement on society here somewhere.
No tags for this post.