Posted on
February 19th, 2008
by The Baseball Zealot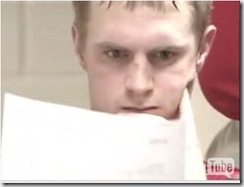 Second season pitcher Kyle Kendrick was the victim of an elaborate practical joke by his Phillie teammates. The crux of the joke was that he was being traded to Japan for a "Kobayashi Iwamura".
Kobayashi is a reference to Takeru Kobayashi who long held the record for hot dog eating.
Teammate Brett Myers was the mastermind behind the whole thing but he help from other Phillies teammates, manager Charlie Manuel, and even Kendrick's agent and sports reporters.
Not only was the whole thing carefully planned, it was even videotaped unbeknownst to Kendrick.
The You Tube video is a must see for a good laugh. Some of the media who were obviously in on it weren't doing a good job keeping it a secret as they had their notepads up to their mouths to conceal their laughing.