Posted on
April 2nd, 2007
by The Baseball Zealot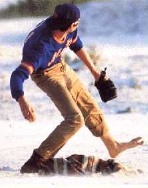 The phantom pitcher Sidd Finch
How many of you remember Sidd Finch? He was a pitcher in the Mets' system back in the mid-80's who the Sports Illustrated said could throw 168 mph with pinpoint accuracy.
Of course, he wasn't real. He was a fabrication, an April Fool's Day hoax courtesy of SI and author George Plimpton.
Plimpton left a thinly veiled hint in his article that it was a hoax inserting an acronym that spelled Happy April Fools Day.
No tags for this post.