Posted on
February 17th, 2008
by The Baseball Zealot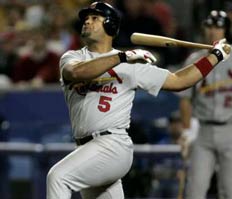 This MLB report that just came out about Albert Pujols' nagging elbow injury attempts to paint a rosy picture on his prospects for 2008.
As a Cub fan who has dealt with many reports of "rosy pictures" in past years, I'm dubious. And Cub fans, don't hate me but I'm hopeful too. Phat Albert is the cornerstone of my APBA team.
Maybe it's the cynic in me, but this kind of spin from MLB is reminiscent of politicians who one week say "We have no plans to (fill in unpopular action).", then the next week do exactly that. When they come out to say to the baseball fans that a baseball injury is not THAT bad (the article is entitled Pujols' Elbow Feeling Good), they may be just preparing us for the worst.
This snippet from Pujols was a little disconcerting.
"Do I need to be concerned? No. I don't have any concerns, because it's going to affect me thinking about it — I can't do this or that. If it blows out, it's going to blow out. You can't control that. When God says it's going to blow out, its going to blow out."
Pujols opted against surgery on the elbow this off-season with the thinking that the benefit wouldn't outweigh the downtime.
That said, as good as Pujols has been, he has shown a noticeable decline in offensive numbers in the last couple years. At some point, elbow surgery may worth it.
Divine intervention can only do so much.