Posted on
October 4th, 2006
by The Baseball Zealot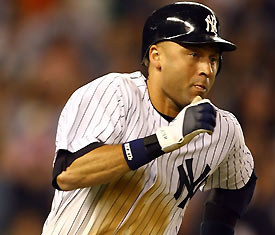 5 for 5, 2 2B, HR, 3 runs, rbi
As if there is any doubt that Jeter was Mr. Postseason, he comes through with a 5 hit night Tuesday.
For the same reason the Cardinals needed to win their first game, the Detroit Tigers needed to do the same given their underwhelming performance against the Royals in the last series of the season. That was not meant to be with Nate Roberton allowing 7 runs in under six innings.
Special honors go to Bobby Abreu who knocked in four runs.
Mother Nature won tonight as the game #2 was postponed due to rain.
No tags for this post.